I sometimes forget how much I like Belle & Sebastian, and I really shouldn't.
Yesterday was minor spontaneity & spening a nice evening in Vienna with Theodora. Featuring cycling through an almost deserted, summery city, the ingenious breaking of minor traffic laws, the air being so warm that it felt like it had body temperature, walking from one restaurant to the next, and deciding on the door-step that we'd rather go somewhere else (we did this 3 times, then we got take-away pizza & later had a drink at Phil - which I hadn't been to before and like very much, despite it being sort of generic and typical and perfectly described by this tag-cloud from Google-Maps: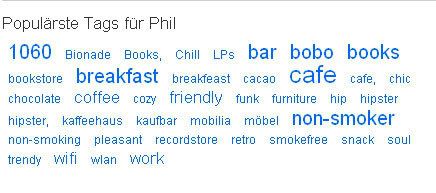 I think I'm all about "bar, bobo, books" after all.
We talked about things and people we like, which is something I rather enjoy, and for some reason, don't do often enough. I spend too much of my time whining and complaining. It poisons the soul!
This is the LP I ordered the other day:
A swedish band doing acoustic, mellow covers of well known heavy metal songs!
I found a video too:
I suppose it gets a bit boring after a while, but they're sweet songs and I like the concept, although it's hardly a new idea. (Old ideas are good ideas!) I suppose it would be even more interesting (and 'piquant') if I knew all the original versions of the songs. Alas, I have not been educated in classic hard rock and metal. :) There is a live version of Judas Priest's "Breaking the Law" on youtube, where they play aboard a ship. Very Badeschiff, and all. But nice!